Consider giving a GFO faculty workshop to empower your local faculty.
A less commonly used, but still powerful, GFO resource is a faculty workshop ("Teaching: The Best Kept Secret!") aimed at conveying facts about the profession. Across a large number of faculty, we find that these presentations improve faculty knowledge and perceptions of the profession, but also help empower those faculty to engage in teacher recruitment. As GFO external evaluator, I recently pulled together a large data set of the project impacts to date; this is post 2 of 3 about what I've found in those analyses.
GFO helps faculty examine and change their perceptions of teaching as a career.
On a survey of 58 GFO Champions, three-quarters indicated that they have examined their own assumptions of grade 7-12 teaching as a result of engaging with GFO. A quote from one of the Champions who took the survey:
Even faculty who have been involved in preparing STEM educators for many years have been surprised and intrigued by the GFO data about STEM teaching in the US.
We have quantitative data to back that up: Each GFO faculty workshop includes a pre/post survey which includes questions testing factual knowledge about teacher salary, retirement, etc., as well as asking about perceptions of the teaching profession. A score is assigned based on factual correctness or desirability of the answers (e.g., we want faculty to value teaching careers!). Averaged across 42 faculty presentations attended by 639 people (mostly faculty), pre-post scores increase dramatically (figure below). After a presentation, in addition to correctly answering the factual questions, faculty are more likely to disagree that "teaching pays a lot less than other careers." Their comfort in their favorite student becoming a teacher is already quite positive (on average) pre-workshop, and shifts are minimal.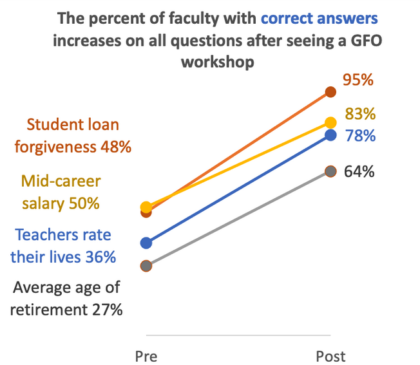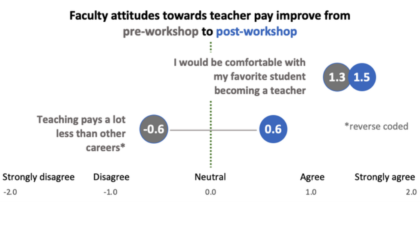 GFO helps empower faculty to recruit future teachers.
One of the most commonly mentioned impacts of GFO on the survey of GFO Champions was that  faculty were taking more responsibility for recruiting future teachers. By getting information and resources, faculty are able to develop a sense of personal responsibility and agency for this work. A quote from the Champion survey:
Mathematics teacher educators are using [GFO resources] to actively recruit teachers, when they did not do that as part of their job in the past.
It's important to customize your materials with local data.
One finding that concerns the project is that many Champions are not locally customizing GFO materials with their program information or local teacher salary and retirement data. Since local data is critical to the credibility and persuasion of the materials, this customization is important. This lack of local customization may be the reason that Champion faculty workshops have lower normalized gains (48%) than do presentations by GFO staff (60%). To find local data, see GFO's Teacher Salary Data page. The presentation files (updated just last month) indicate which slides are intended for local information and should be customized. [editor's note: we will soon publish a short tutorial and/or blog post on how resources have been successfully customized.]
Many people are talking to faculty about GFO, but few are conducting faculty workshops.
On the Champion survey, only about ⅓ of those using GFO resources indicated that they had used the faculty workshops. Many Champions indicated that they were uncomfortable giving a faculty workshop. However, a majority (91%) indicated that they had talked to faculty at their institution about GFO. These colleagues included STEM faculty, those in schools of education, advisors, chairs, and deans.
Because of the analyses above, I strongly recommend that you consider using the workshop materials to support your conversations with faculty, try your hand at a faculty presentation at a group meeting or regional conference, or invite a GFO Change Agent to give a presentation to your faculty.