Thinking About Teaching?
Audience/setting: Students in introductory math and science courses/personal conversations with students.
Time: 15 minutes to print
Synopsis: Use this brochure to engage students in deeper conversation about considering a career in secondary math or science teaching.
Implementation
Materials
Download and edit the brochure template. Use this as a discussion piece to engage students in one-on-one conversations.
Help get the facts out about teaching by downloading a customizable brochure and distributing it to your students.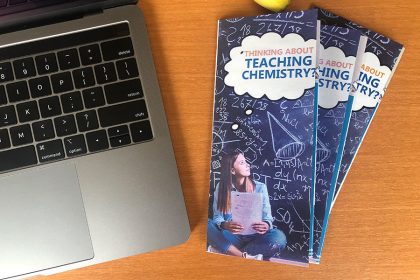 * Version numbers were added in September 2021.
Good to know
Don't hold back on just sharing the brochure with students who you think are potential to become teaching candidates. It isn't always possible to identify who has interest, and don't assume that teaching is an innate skill for which some students are better suited over others. Use this brochure with the intent to change perceptions, not just to recruit.
It is ok if you do not immediately know all the answers to the questions asked by students about teaching. Let them know that you can direct them to the right contact person who can help them, including a colleague and/or a local math or science teacher. If you still don't know who to contact, reach out to one of these organizations.
Consider pinning some brochures for students to take up next to an "Teach Science/Math! Inspire young Minds" poster.