One GFO Champion's experience
An interview with Dr. Laura Altfeld, GFO Champion from Saint Leo University in Florida.
In this short interview, Laura shares her experiences from the recent Get the Facts Out (GFO) Mini-conference that brought over 70 STEM teacher educators and four national societies together to strengthen the GFO Community within and across STEM disciplines. The mini-conference was held virtually on September 30, 2021 with the goal of understanding what faculty need to support their STEM teacher recruitment efforts.
Laura is an Associate Professor of Biology at Saint Leo University in Saint Leo, Florida as well as a GFO Champion. She and her colleagues Cheryl Berry, Instructor of Biology, and Dr. Holly Atkins, Chair of Undergraduate Education, are recent recipients of an NSF Robert Noyce Teacher Scholarship grant focused on preparing Biology and Math majors for careers in teaching. She spoke with GFO Change Agent Ellen Yezierski after attending an invitation-only mini-conference for GFO Champions in September.

Ellen Yezierski:
What motivated you to join the GFO project?
Laura Altfeld:
My colleagues and I attended a GFO session a couple of years ago during a Noyce Summit meeting and were really impressed with the resources that the GFO project was providing to individuals involved in the recruitment and preparation of STEM teachers. Saint Leo University is a recent recipient of a Robert Noyce Teacher Scholarship Track Grant and the resources GFO offers have been very helpful for use with prospective STEM teachers and our university colleagues alike.
The GFO resources we've found especially valuable have been the:
prepared presentations that are customizable for use with our own prospective STEM teacher candidates as well as our university faculty colleagues who serve as academic advisors in STEM.
We have also used the customizable flyers to post around campus and use at university open-house events.
Finally, our Noyce grant team has been using social media outlets to generate excitement for and interest in teaching and following what our own Noyce Scholars are doing. Sharing GFO social media posts has complemented our own postings and has worked well to attract interest in our feeds.
Ellen Yezierski: 
What most interested you about the GFO mini-conference to which you were invited?
Laura Altfeld:
Honestly, anytime there is a GFO session I and my STEM ED colleagues are interested in showing up to learn what's new and share ideas with other individuals working to enhance our STEM teacher workforce. This most recent mini-conference was especially attractive to us given that it was aimed at addressing the latest research results about STEM teacher recruitment, something which we are actively in the midst of now with our recent Noyce grant.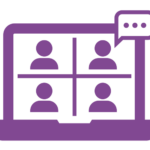 The September GFO mini-conference was a successful collaboration among champions of several disciplines, each strategizing about what the next steps are for strengthening the community for improving recruitment of STEM teachers. Find out more in this GFO blog post.
As expected, the content of the conference directly related to what our future STEM teachers need to hear about the profession. The benefits of a teaching career highlighted by GFO included
a healthy work life balance due to most holidays and flexible summers,
health and retirement benefits,
job security due to working in a high demand field, and
intrinsic satisfaction from helping and inspiring children through positive role modeling.
Quality STEM teachers can influence diverse and underrepresented STEM students, who can be inspired to choose higher education in STEM and hopefully STEM professions. The pathway to underrepresented groups choosing STEM professions begins with our highly qualified STEM teachers – who themselves should be a diverse group of individuals – providing inspiration to students in K-12 schools.
Ellen Yezierski: 
What were some of the highlights of the mini-conference for you? And how will you apply what you learned at the mini-conference?
Laura Altfeld: 
There were two key highlights for me during this event.
The model I was presented with [short-term winter course to explore teaching] seemed genius for numerous reasons.
First, I was intrigued by a short-term winter course being offered at Carthage College that tasked enrolled students to collectively teach and learn in local area high-need schools during a series of "science is fun" activities. This was described as a successful, low-stakes introduction to the joys and satisfactions of teaching and was helpful in recruiting students into learning more about teaching as a professional option. The model I was presented with seemed genius for numerous reasons:
Such a creative immersive experience provides a valuable service-learning opportunity, something which Saint Leo prides itself on supplying.
The experience was described as successful in turning students on to teaching as a professional option.
It was a different and interesting elective that students enjoyed taking.
The second highlight from this conference was having the opportunity to meet several new professionals involved in key STEM areas that we at Saint Leo are looking to develop more fully in the near future. Connecting with these individuals will help us to grow our STEM teaching opportunities more fully and with greater support than we would have had otherwise.