Life as a Middle School Science Teacher
Deciding on a career path can be an important and difficult decision. What will be most meaningful to you? What career will you enjoy most?
These are questions that are important to consider when making career decisions. As with any career decision, it is important to speak with people who are in the career so you can get an idea of what it would be like. In this blog, and in future blogs in this series, we will be having discussions with grade 7-12 math and science teachers about their careers, and then share those conversations with you.
Greg Marsden, known as Mr. Marsden to his students, is a Jr High science teacher at Sugar City Jr High in southeast Idaho.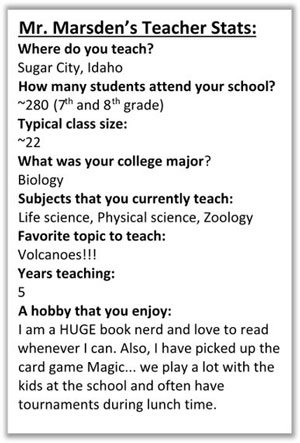 Day-to-day of a middle school science teacher
Anyone interested in becoming a teacher should know that effective teaching doesn't just happen, it takes a lot of preparation. Although school starts at 8 AM, Greg typically gets to his classroom between 6:30 am and 6:45 am every day. He refers to this time as his "cushion zone" where he prepares for the day, plans lessons, makes sure any technology he is planning to use is working, and sets up any experiments or hands-on activities. In addition to getting ready for the day, Greg's classroom is always open (with lively music playing) to students who get to school early and want a place to hang out."
Once that 8 AM bell rings Greg teaches five periods of life science, physical science, and zoology each day with one period free. If you were to walk into his classroom, you'd be sure to see his students actively participating in their learning through group work, projects, and experiments.
During his prep hour, he usually works on grading (his least favorite part of teaching), making copies, and refilling any supplies they are using in experiments that day.
If it's during track and cross-country seasons, Greg typically leaves right after school at 3:30 to go coach (which he loves!). If it's not track or cross-country season, he is usually at school till 4 or 4:30 where he helps kids with homework and works on grading. When asked if work follows him home, he said, "When I leave school, school stays here." During the school year, Greg usually works about 10 hours a day so he can have teaching stay at school. He then heads home and has some time to relax before the next day.
"When I leave school, school stays here."
Greg's career path: How he landed in the classroom
Greg's path to becoming a science teacher (like many career paths) was not a linear one. He began college as a business major but changed direction mid-way through and completed his degree in biology with a minor in chemistry. During his time in college, he did an internship in a biology lab at UC Davis where he enjoyed the laboratory experience, so he decided to apply to graduate school.
Greg describes it as a "blessing in disguise", when he was not immediately accepted into his graduate school of choice and he realized that what he really wanted to do was teach. From there, he enrolled in teacher preparation classes at his local university where over the next 1-2 years he earned his teaching license while also teaching undergraduate biology labs as an adjunct instructor.  After completing his student teaching, Greg taught for a year in Arizona and then moved back to Idaho where he has been teaching at Sugar City Jr. High for four years.
Greg loves being a middle school science teacher
In a nutshell, Greg loves being a science teacher because he loves his students! Although Greg loves science, it is his students themselves that bring him the most satisfaction. Greg described that if you are solely interested in science, and have no real interest in kids, that teaching probably isn't for you. Being "in it" for the kids is SO important and that is exactly why Greg loves his job.
What does middle school science teacher do during the summer?
Greg, a self-proclaimed book nerd, spends lots of time reading during his summer months! He loves to relax, learn new things, and dive into all the books he didn't have time to read during the actual school year. In addition to reading and enjoying some R and R, Greg also spends time planning his curriculum for the next year and completing continuing education courses (he actually just completed his master's degree in educational leadership). Currently, he is reading "Astrophysics for People in a Hurry". This is because he knows his students LOVE space science, so he wants to be prepared for their interests and how to teach them most effectively.
Teaching  makes a difference in student's lives
Two main themes emerged in our conversation around this point, 1) he loves helping his students have that "lightbulb moment" when they are trying to learn something difficult and 2) he loves making a difference by coaching cross-country and track.
One time while teaching his students about the parts of a cell, he was able to use analogies to help his students not only understand the parts of the cell but what those parts actually do. He recalled one time where he used the winch on a truck as an analogy to help his students understand the function of the spindle apparatus. He loves hearing his students say, "Ohhhh! I get it now! I wish the textbooks would teach it like this!"
"A lot of my good experiences with the kids have been with coaching… I freaking LOVE coaching cross country with the kids."
Secondly, Greg loves making a difference through coaching. He says that a lot of his good experiences with the kids actually happen outside the classroom when he is coaching. Greg describes that at the end of the season the coaches and track team will go over to one of the kids houses and have a pizza party to celebrate the season together. While there, the kids will often write nice things in thank you cards for the coaches which always makes Greg's day!
Greg recommends teaching as a career to math and science majors
Greg would recommend teaching to math and science majors if they have two things: an interest in teaching kids and a growth mindset. Greg emphasized many times the importance of having a love for the younger generation if you are going into teaching. That love will be what motivates you and keeps you going.
"If you are going to be a STEM teacher you've got to have a growth mindset. You've got to be walking in there believing that if they don't have it now, they can get it."
Additionally, Greg discussed the need for having a growth mindset (the belief that a person's knowledge or skill isn't a fixed quantity but something that can be developed). He said, "The key there is you have to be willing to walk into a classroom facing kids who probably don't care about the content like you do and don't know as much about the content as you do. If you are going to be a STEM teacher you've got to have a growth mindset. You've got to be walking in there believing that if they don't have it now, they can get it." Overall, Greg loves teaching and would recommend it to anyone who loves kids and believes that they can learn!
What you should know before entering the profession
Before becoming a teacher, Greg urges math and science majors to consider their thoughts and beliefs about two main educational tenets:
Teaching isn't about you, it's about them
Students need to act and not just be acted upon
Greg wants all students to have a great educational experience and he wants new teachers to create classrooms and learning environments that revolve around these two ideas.
He invites those interested in becoming teachers to ask themselves 'How will I create an environment where my students will act and take ownership over their learning?' and 'How will I make learning about them [students] and not just about getting through the content or reaching a standard?'
One way that Greg does this is by allowing his students to redo assignments until they have it completely correct. Greg operates his classroom on an "all or nothing" grading system where students get as many attempts as needed to master a concept or ace an assignment. This is just one student-focused way that Greg uses to help his students to act and not just be acted upon.
Conclusion
There are many options a math and science major has when it comes to career choices, and grade 7-12 teaching is certainly one of them. If you are considering becoming a teacher, it is a career path with many benefits and offers you a lifetime of opportunity to change the world one student at a time. Greg is a great example of an enthusiastic middle school science teacher who loves his students. If you'd like to learn more about why teaching is a great career choice you can explore our website at (getthefactsout.org).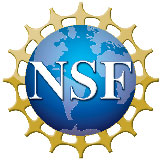 This material is based upon work supported by the National Science Foundation under Grant Nos. 1821710 & 1821462. Any opinions, findings, and conclusions or recommendations expressed in this material are those of the author(s) and do not necessarily reflect the views of NSF